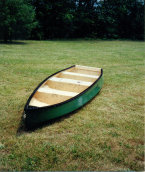 Fiberglass Square Back 13 Foot Canoe Boat
The Swamp Duck fiberglass boat is manufactured from the best composite material on the market today.

Less drag - because of the boats bouyancy
Shallow water - 4 to 6 feet of water
Easy to plain
Less horsepower to propel
Very stable - unique design
Quiet in the water
Bouyant - because of insulated hull
Warm to touch even in cold weather


The hull is a unique design which allows the boat to be very stable in the water while even standing up. It also requires less horsepower to propel it and this is what makes the Swamp Duck fiberglass boatso great.

Fiberglass Square Back 15 Foot Canoe Boat